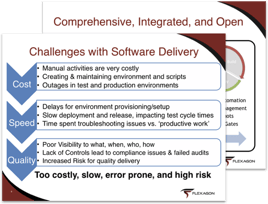 As Forrester Research said in the 2020 Wave for Continuous Deliver and Release Automation (CDRA), "Flexagon continues to pioneer continuous delivery for enterprise software platforms," and reference customers "praised 'phenomenal' support and Oracle platform support."
FlexDeploy is a DevOps platform for CDRA that empowers you to develop and deliver high-quality software fast. It offers over 100 out of the box integrations with commercial and open source technologies, including extensive support for the Oracle ecosystem:
Cloud IaaS (OCI, API Platform, Kubernetes Engine, Functions)
Cloud PaaS (Integration Cloud, Java, SOA, Database)
Cloud SaaS (Oracle Transactional Business Intelligence, CX Commerce)
E-Business Suite
Database
APEX
Fusion Middleware (WebLogic, SOA, OSB, B2B, MFT, etc)
Business Intelligence and ETL (OBIEE, OAS, OTBI, ODI)
JET

FlexDeploy enables you to establish repeatable, efficient, and cost-effective software delivery. You can start wherever you are today and mature your DevOps practices over time.
Learn how FlexDeploy can help you optimize your Oracle technologies to, not only keep up with high demands, but exceed increasing expectations and delight customers!
Watch today.