Are you trying to implement DevOps in your company? Are you in the middle of the transition to DevOps practices and encountering obstacles? Are you not interested in DevOps but would entertain the idea of a more agile mindset or full-blown CI/CD instead of your waterfall processes?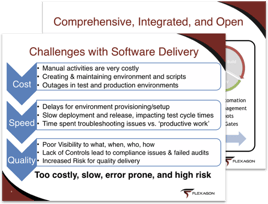 Whatever the case may be, whether DevOps is a foreign concept, a new passion, or an old friend, there are some steps you need to take to be successful, such as:
Adopting an agile mindset
Gathering the right team
Ensuring leadership sees the vision
Automating, automating, automating


Being successful does not always mean adopting a full DevOps culture. However, success does require maturing current processes.

Join Dan Goerdt, President of Flexagon, and Rebecca Pruess, Director of Marketing, on March 12th as they discuss what it takes to be successful in your software development and delivery.