Takeaways from Oracle OpenWorld 2018
---
Flexagon attended Oracle OpenWorld 2018 in San Francisco and has put together a brief recapping the important takeaways.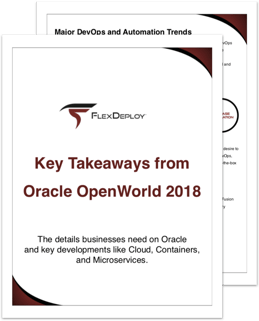 Insights include:
➢ Updates on Cloud (IaaS, PaaS, SaaS, General)
➢ Containers, Microservices, and Serverless Takeaways
➢ Major DevOps and Automation Trends
➢ Details on Cloud Strategy and Open Source
➢ What to Look Forward to in 2019
Everything you need to know going into 2019 based on the current state of DevOps.
Download today.