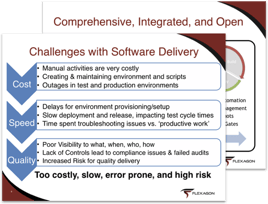 Historical approaches to software development and operations have used manual activities and scripting for deploying changes to infrastructure, database, middleware, and applications. Too often the result is slow, labor-intensive, and error-prone delivery and maintenance. Businesses are looking for ways to accelerate software development and delivery, improve quality and traceability, and more effectively manage cost and risk.

Explore the benefits achieved with FlexDeploy for DevOps, CI/CD, and Release Automation. Whether using commercial (Oracle, Salesforce, SAP, Microsoft, ServiceNow, Google, etc.) and/or open-source technologies across Infrastructure, Database, Middleware, and Applications, FlexDeploy enables customers to automate, control, and have visibility to changes deployed across environments on premises, or in the cloud.

This webinar focuses on a live demo of how FlexDeploy can:

Decrease costs by reducing manual activities

Speed up software delivery and deployment

Increase visibility and control to lower risk for low-quality delivery.

See how FlexDeploy can help you respond more quickly to customer needs, increase your competitiveness, and realize faster time to innovation.