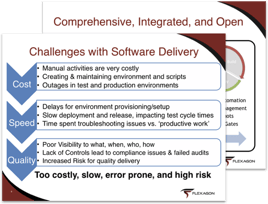 Looking to deploy microservices and containers?
There are multiple deployment strategies, such as blue/green, canary, and A/B, which allow you to test your changes in production in a controlled way. For example, canary deployments allow you to release changes to a subset of users. The result is faster feedback and time to market, with more effective use of IT and business resources.
This advanced topic can quickly and easily become confusing. However, deciding which strategy works best for you is important when you are deploying microservices with container technology like Docker, Kubernetes, Helm, and Istio. What does it mean to incorporate deployment strategies across microservices and containers?
In this webinar we cover:
An overview of microservices and containers
A discussion about deployment strategies and cloud support
A demonstration of automated deployment of microservices via containers
A demonstration of blue/green, canary, and A/B deployment strategies