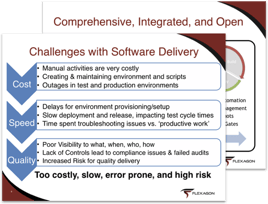 The importance of security in the software delivery process cannot by stressed enough. It is essential.
As organizations continue to shift to more agile, continuous, and automated processes, they must consider incorporating security in every step. There is a conflict between speed and security with DevOps, because there is an inherent struggle between being as agile as possible while making sure that the appropriate security enablement is in place.

Enterprises need speed and agility AND security and stability to be successful. Thus, DevSecOps has drastically grown in popularity over the past few years.

In this webinar, we explore how you can ensure security in your DevOps practices. You will learn how the FlexDeploy DevOps platform helps mature your end-to-end processes for developing, delivering, and maintaining secure IT solutions.

We will cover:
Segregation of roles and responsibilities using fine grained permissions

Integrating secrets and credential management with tools such as CyberArk, Hashicorp Vault, and Azure Vault

Applying vulnerability scanning using tools such as Acunetix, Veracode, and Checkmarx

Integrating security checks and static code analysis into your release ipelines with SonarQube and ApexSec

Support for Single Sign On (SSO) and multi factor authentication (MFA/2FA)
Ready to achieve the perfect balance of speed and security? Fill out the form to access the recording.