Why Top Brands Choose FlexDeploy Over Kintana
As the product formerly known as Kintana continues to evolve and change ownership (currently part of Micro Focus's PPM tool), businesses have been investigating where to turn next for automating their Oracle E-Business Suite (EBS) implementations. When choosing the automation tooling you'll use with EBS, it's important to consider what platform will give you the best, most comprehensive, and cost-effective solution.
FlexDeploy helps deliver better software faster, and with less cost and risk, and includes support for many commercial and open source technologies. This comparison of Kintana and FlexDeploy will help ensure you choose the solution that will meet your needs.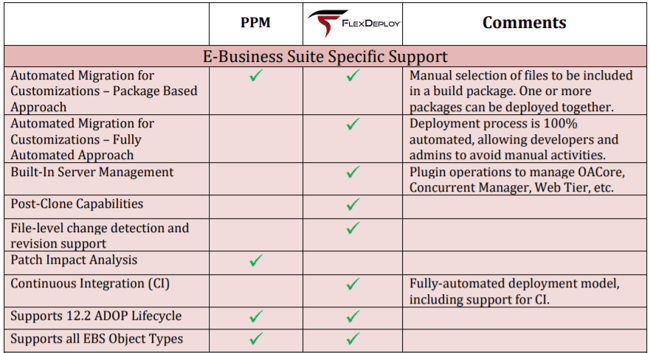 As its name implies, Micro Focus's PPM (the Kintana product merge) is a Project and Portfolio Management tool. This product includes a Deployment Management Module for EBS, i.e. the Kintana functionality. FlexDeploy however, is a comprehensive and open DevOps platform for Continuous Delivery and Release Automation. FlexDeploy offers a fully automated approach to managing migration of customizations which allows your developers and admins to avoid manual activities and scripting. This is just one of the features that make FlexDeploy stand out over Kintana.
Kintana and FlexDeploy both support EBS but there are many differences in how they deliver on that objective. As you are looking for the best solution for EBS automation, our comparison outlines how Kintana stands against the FlexDeploy platform.
With a side by side look at the Kintana and FlexDeploy features you will:
Gain a comprehensive insight into the variations of Kintana and FlexDeploy
Better understand the specific support provided by both platforms
Have an outline of base features to best serve your needs