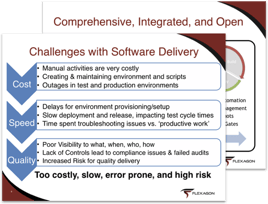 Traditionally, migrating Salesforce changes across environments is a manual, tedious, and error-prone process. It is difficult to tell what needs to be migrated, and there isn't clear visibility into what has been migrated to each environment, when the changes were made, and by whom. Keeping metadata in sync between sandboxes and organizations is a time consuming and error-prone challenge.

FlexDeploy's support for Salesforce changes all of that.
During this webinar, Flexagon President Dan Goerdt will demonstrate how FlexDeploy can automate and improve the deployment and tracking process of Salesforce implementations.

You'll learn how FlexDeploy:
Increases the speed of making changes via automation
Eliminates the need for customized scripts that need to be developed and maintained over time
Improves the quality of releases significantly, driving down the time and cost of delivery
Provides visibility to what, when, where, and who of the delivery lifecycle
Helps troubleshoot when errors arise
Ready to see FlexDeploy's support for Salesforce? Enter your information and we'll send you the recording!