Oracle E-Business Suite is a robust and proven application for managing many aspects of your business. However, you must customize EBS to serve your needs. Deploying these customizations (e.g. PL/SQL, Reports, AOls) requires manual activities, which are resource-intensive and ineffective.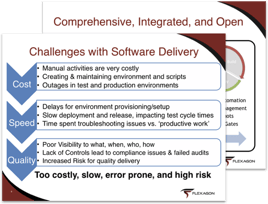 With FlexDeploy, you can automate the deployment and release processes of EBS. The result is elimination of manual steps and scripting, decreased cost and risk, improved quality and speed of delivery, and increased visibility into and control over the change process.
In this webinar, you will learn how to:
Automate the deployment of EBS customizations across environments
Automate the operational processes such as starting/stopping servers
Make post-clone refresh more effective
Streamline your data fix processes
Control and govern your release process and gain object level visibility across environments
Watch the webinar to learn how to get the most out of Oracle E-Business Suite!