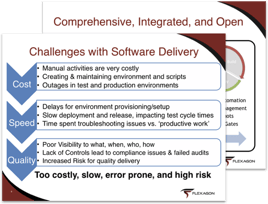 ConfigSnapshot complements FlexDeploy through configuration automation and control of the E-Business Suite and Fusion Cloud Applications.

ConfigSnapshot has been developed and refined over the past 20+ years and is the most comprehensive and flexible configuration management tool available for the Oracle EBS and Fusion Cloud Applications, providing various areas of functionality (document, analyse, compare, monitor, plan, migrate, track and comply) saving time, cost and risk at all stages of the E-Business Suite and Cloud application lifecycles. ConfigSnapshot is a mature application used by over 600+ Organisations with 1000's of Users from all Industry sectors including government and commercial.

In this webinar, we'll focus around the setup loading/migration functionality where ConfigSnapshot provides fully supported functionality to create and load/migrate setup (insert, update & delete - fully validated) within, between, and across environments/entities providing control, traceability, and transparency at all stages of the process. The planning workbench enables you to highly target records that you want to: migrate, create new and transform existing setup directly or in Excel, extract the differences between environments/baselines to upload all setup or just the deltas or create 'best practice' settings for comparison to actuals.

Furthermore, ConfigSnapshot allows you to review planned setup in familiar formats such as BR100s / DS030 / MC50, then load the approved settings and compare the actual values loaded against the plan or other E-Business Suite and Cloud environments/baselines to validate and verify the successful migration.

The webinar will be of benefit to all resources working in and around the E-Business Suite or Cloud applications and will include a product demonstration so you can see how the migrations work in practice.

Save your seat today.