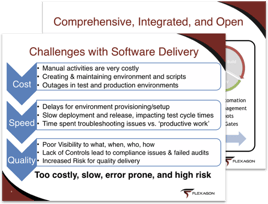 There is an ever-increasing demand for innovation and faster software delivery. Many companies struggle to deliver at the required rate and pace due to slow and error-prone deployment and release processes.
Looking for a way to keep up with high demands and maintain the quality of your deployments? Maybe it is time to adopt DevOps processes and tooling that incorporate Continuous Integration, Continuous Delivery, and Release Automation and Orchestration.
FlexDeploy is a DevOps platform for Continuous Delivery and Release Automation. It offers integrations with your current tools and technologies, like Jira, Oracle E-Business Suite, Middleware, Database, BI, Oracle/Amazon/Azure Cloud, Jenkins, Containers, and more! FlexDeploy allows you to establish repeatable, efficient, and cost-effective software delivery. You can start wherever you are today and mature your DevOps practices over time.
Join our DevOps for Your Enterprise webinar on May 14th to learn how FlexDeploy can help you keep up with high demands and increasing expectations!