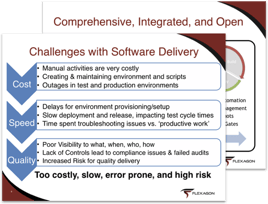 Companies face ever-increasing demands for innovation and faster software delivery. To efficiently and effectively complete business activities and better serve customers, companies have technology landscapes with a wide variety of tools, including Oracle applications. With all of these technologies, many organizations struggle to deliver at the required rate and pace due to slow and error-prone deployment and release processes.

Looking for a way to keep up with high demands and maintain the quality of your deployments? Maybe it is time to adopt DevOps processes and tooling that incorporate Continuous Integration, Continuous Delivery, and Release Automation and Orchestration.

FlexDeploy is a DevOps platform for Continuous Delivery and Release Automation. It offers integrations for a wide variety of tools and technologies. FlexDeploy has broad and extensive support for the Oracle ecosystem, including Database, WebLogic, SOA Suite, Business Intelligence, ODI, E-Business Suite, APEX, and JET. There is also support for IaaS (OCI, API Platform, Kubernetes Engine), PaaS (Integration Cloud, Java, SOA, Database). FlexDeploy allows you to establish repeatable, efficient, and cost-effective software delivery. You can start wherever you are today and mature your DevOps practices over time.

Watch the recording of this "DevOps for the Oracle Ecosystem" webinar to learn how FlexDeploy can help you optimize your Oracle technologies to keep up with high demands and increasing expectations!