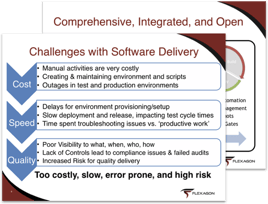 The objective of DevOps is to improve collaboration and utilize automation to increase deployment frequency. With DevOps, many companies have experienced improved quality and frequency of deployments, reduced errors, and increased productivity.
During this webinar, several companies will share the results they achieved with FlexDeploy, including:
Cut off-hours support

Reduced deployment time

ROI within months
Three companies share all the numbers and details! They will also share their goals for the future.

Webinar attendees will have the opportunity to ask questions during a Q&A sessions with the companies. Join us for this opportunity to get the inside scoop about implementing and using this DevOps platform!