How Nuance reduced migration time by 80%.
---
Challenges Nuance faced:
➢ Time consuming manual tasks taking away from more important initiatives
➢ Heavy reliance on DBA team for delivery processes
➢ Disparate processes across teams led to long delivery times and miscommunication
Outcomes with FlexDeploy: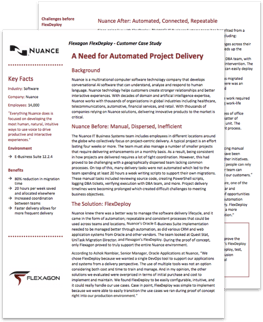 ➢ 80% reduction in migration time
➢ Saved 20 hours per week and allocated elsewhere
➢ Increased coordination between teams
➢ Faster delivery allows for more frequent delivery
"The beauty of this is repeatability, we have a process that people can rely on and it becomes very fast and easy. As we expand the use of FlexDeploy our team can further increase output which directly increases our value to the business and our customers."
-Ashok Nambiar, Senior Manager, Oracle Applications at Nuance
Download the case study to learn why Nuance chose FlexDeploy over Quest Stat and
UniTask Migration Director.