How FlexDeploy Increased Job Satisfaction for a Global Food Manufacturer
---
"FlexDeploy has dramatically improved our ability to deliver software fast and with high quality, positioning us to meet our aggressive business growth strategy. In addition to support for Oracle Fusion Middleware and E-Business Suite, FlexDeploy supports other Oracle and non-Oracle technology, exceeding our high expectations for an enterprise automation platform."

- CIO, Global Food Manufacturer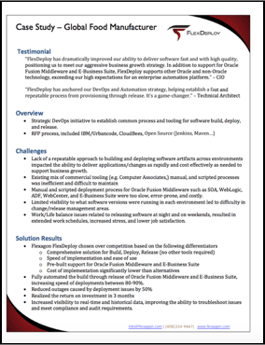 A global food manufacturer struggled with a software approach which was able to deliver applications efficiently and cost effectively. This manufacturer needed a DevOps and Automation strategy that could establish fast and repeatable processes.
Outcome with FlexDeploy:
➢ Fully automated the build through release of Oracle Fusion Middleware and E-Business Suite, increasing speed of deployments between 80-90%.
➢ Reduced outages caused by deployment issues by 50%.
➢ Realized the return on investment in 3 months.
Discover the benefits of the customized FlexDeploy solution for this global food manufacturer. Download the whitepaper now.