Fueling the Growth in Demand for BI
---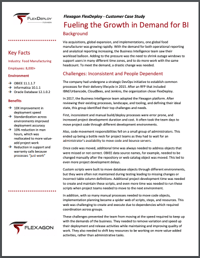 Via acquisitions, global expansion, and implementations, one global food manufacturer was growing rapidly. With the demand for both operational reporting and analytical reporting increasing, the Business Intelligence team saw their workload balloon. Adding to the pressure was the need to shrink outage windows to support users in many different time zones, and to do more work with the same headcount. To meet the demand, a drastic change was needed.
With FlexDeploy, the BI team was able to reduce or eliminate manual and scripted processes, resulting in:
➢ Deployments that previously took 3-5 days to execute now take 1-4 hours, for an average of 10X reduction in deployment time.
➢ Standardization across environments improved deployment accuracy, shrunk outage windows, and made deployments less person-dependent.
➢ 10% reduction in man hours, which was reallocated to more value-add project work.
Discover the benefits of the customized FlexDeploy solution for this food manufacturer. Download the case study now.