How Charter Manufacturing Reduced Costs by 30% with FlexDeploy
---
Charter Manufacturing is a steel and iron production company that relies on technology to improve internal operations and support customer applications. Charter Manufacturing required a DevOps and Release Automation platform to address their struggle with error-prone and inconsistent deployment processes.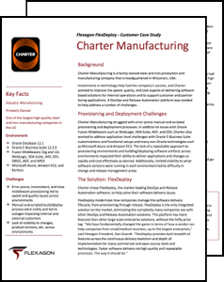 Challenges Charter Manufacturing faced:
➢ Error prone, inconsistent, and slow middleware provisioning led to speed and quality issues across environments.
➢ Manual and scripted build/deploy process were costly and led to outages impacting internal and external customers.
➢ Lack of visibility to changes, product versions, etc. across environments.
Outcomes with FlexDeploy:
➢ Reduced average deployment time by 60%.
➢ Eliminated 25% of errors, reducing overall production outages and post go-live support.
➢ Cut costs by 30% by removing the need to rely on outsourced and internal after-hours support.
"FlexDeploy has provided us with a huge leap forward in terms
of code management, environment management, and operational
infrastructure automation."

- Matt Gerkhardt, Charter Manufacturing's Middleware Engineer
Download the Whitepaper to learn why Charter Manufacturing chose FlexDeploy over Jenkins, CloudBees, Redgate, and Go Continuous Delivery.