How FlexDeploy Helped Amway Prepare for an Enterprise-Wide DevOps Strategy
---
"With FlexDeploy, we have achieved the cost savings we were looking for, and it's easier for our team to use. Our release management team, for example, needs only push a button to kick off their release processes."
- Jerry Sullivan, Amway Oracle EBS Environment Manager
---
Amway is a global direct selling organization that needed to upgrade their deployment tool to support their upcoming move to Oracle E-Business Suite 12.2. They needed a tool that could handle E-Business Suite deployments, integrate well with JIRA, and provide them with an enterprise-wide DevOps strategy.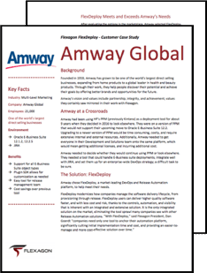 Read the case study to learn how FlexDeploy solved the following challenges for Amway:
➢ Costly, time consuming, and risky HP PPM upgrades
➢ Lack of EBS 12.2 support
➢ Required manual processes for some object types and configurations
Discover the results of the customized FlexDeploy program for Amway. Download the case study now.