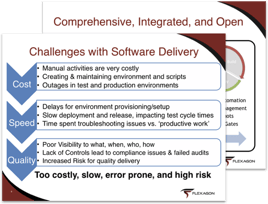 DevOps has an inherent conflict of speed and agility vs. security and stability. The reality is enterprises need all of these to be successful and therefore DevSecOps has become a huge focus over the past few years. But how should you ensure security of your DevOps practices?
In this webinar, you will learn how FlexDeploy helps mature your end to end processes for developing, delivering, and maintaining secure IT solutions.

We will cover:
Ready to investigate the balance between automation and security? Watch the on-demand webinar recording!