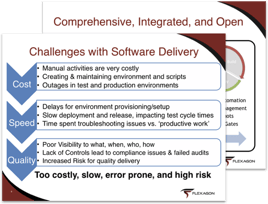 DevOps and CI/CD for Salesforce is long overdue. Developing and migrating Salesforce changes across environments is traditionally a manual, tedious, and error-prone process. It's difficult to tell what needs to be migrated, and there isn't clear visibility into what has been migrated to each environment, when the changes were made, and by whom. Keeping metadata in sync between sandboxes and organizations is a time consuming and error-prone challenge.

FlexDeploy's support for Salesforce changes all of that! And not only for Salesforce, but for any technology.

In this webinar, Flexagon President, Dan Goerdt, highlights how FlexDeploy solves 10 challenges enterprises need to address as part of their development, deployment, and tracking process across their Salesforce implementations.

Don't let these challenges stand in the way of:
An out of the box DevOps solution for Salesforce

Quicker changes via automated CI/CD pipelines

Decreased reliance on customized scripts that need to be developed and maintained over time

Higher quality releases, and decreased time and cost of delivery

Visibility into the what, when, where, and who of the delivery lifecycle

Troubleshooting assistance when errors arise
Watch on-demand.